When you're a male star of "Saved by the Bell," the popular TV show that launched the careers of several teen idols, you have to expect that females will occasionally swoon in your presence. But can Mario Lopez and Mark-Paul Gosselaar claim that a woman actually fainted upon meeting them?

Well, Dennis Haskins -- known worldwide as Mr. Belding -- can.

The goofy, wise and endearing principal of Bayside High, Haskins says he and his co-stars were at Disney World doing promotions during the show's heyday in the early '90s when he inadvertently caused a woman to lose consciousness.

"I got lost while looking for where to be, so I tapped this woman on the shoulder and said, 'Excuse me, do you know where the 'Saved by the Bell' exhibit is?' And out she went," recalls Haskins, 61, who played Mr. Belding from 1989 until 2000 in the original "Saved by the Bell" series as well as two spinoffs, "Saved by the Bell: The College Years" and "Saved by the Bell: The New Class."


[+] Enlarge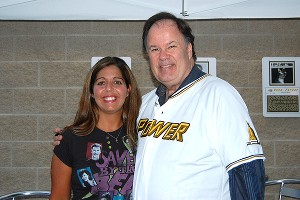 Courtesy of West Virginia PowerDennis Haskins poses with a "Saved by the Bell" fan
at a West Virginia Power game in Charleston.
For the record, the woman recovered from her unexpected run-in with Mr. Belding. But Haskins, whom you might have recognized in a recent cameo on "Mad Men," is still surprising "Saved by the Bell" fans more than two decades after the show's premiere.
For the fourth consecutive year he is making appearances at minor league baseball parks, where he'll typically meet the players, throw out the first pitch, sing "Take Me Out to the Ballgame," sign autographs and drop into the radio booth for an inning of play-by-play. He calls it "Mr. Belding's Boys of Summer Tour."
"All the minor league ballparks are geared toward family, bringing your children out, having a good, clean time, and that's what 'Saved by the Bell' was all about," he said.
Haskins is synonymous with Mr. Belding, but he's had other recognizable roles as well, including a guest spot on "It's Always Sunny in Philadelphia" in 2005 and the cameo on "Mad Men" in which he played a Cool Whip test-kitchen scientist. For fans of "Saved by the Bell," Haskins' unexpected appearance on the AMC hit was rather nostalgic, and "Mr. Belding" was soon trending on Twitter.
"That was spontaneous and really delightful," Haskins said. "To have that kind of reaction come back was really enjoyable."
Though his best-known character is somewhat klutzy, Haskins was an athlete growing up in Tennessee and remains a big sports fan. He walked on the freshman basketball team at the University of Tennessee-Chattanooga and has come to know many athletes during his years doing celebrity appearances.
[+] Enlarge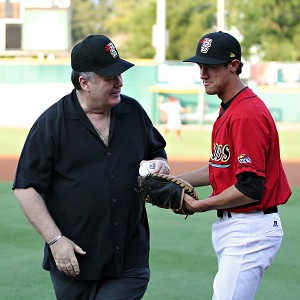 Bowling Green Hot RodsDennis Haskins chats with a Bowling Green Hot Rods player while handling duties of the ceremonial first pitch.
Among his favorite interests is professional wrestling.
"I just have a lot of respect for how they maintain their athleticism and how hard they work and the show they put on for the fans," said Haskins, who recently dropped by a WWE event in Chattanooga while visiting family.
"Saved by the Bell" has enjoyed a renaissance lately, with episodes airing on MTV2 and Netflix, and Haskins still keeps in touch with some of his old castmates.
"I stay in touch with Mario more than anybody, and Elizabeth [Berkley] a little bit," he said. "But the others are off with careers, lives, other things."
For Dustin Diamond, aka Screech, "other things" have involved celebrity boxing matches and roles in adult movies. If Mr. Belding were asked about this, he might have some harsh words for Screech. But Haskins reserves judgment.
"I worked with Dustin from the day he was 11 until he was 20," Haskins said. "We worked together a long time. Dustin is making his own choices for his own reasons, but I'm not going to criticize him."
Haskins can be seen
at minor league stadiums throughout the summer
, but when can we expect to see him on screen again?
"You don't know as an actor," he said. "Your last job is your last job until you get the next one."
Credit: ESPN